Passage Sculpture
Unique piece ceramic sculpture
Dimensions high 24,5 x 8 x 22,5 cm
(not suitable for water)
Demi Sel Beeswax Candle
Dimensions high 7 x 12 x 4 cm
Large Braid Beeswax Candle
Dimensions high 23 cm x 5,5 x 5,5 cm
About 460 gr. of french local beeswax
About 45 hours consumption time
Couleur du Ciel Vase : purple dawn
Unique piece ceramic vase
Dimensions high 26,5 cm x 13,5 x 20,5 cm
Couleur du Ciel Vase : blue mountain

Unique piece ceramic vase
Dimensions high 26 cm x 25,5 x 13,5 cm
Medium Braid Beeswax Candle
Dimensions high 14 cm x 7 x 7,5 cm
About 320 gr. of french local beeswax
About 28 hours consumption time
Wheat Bouquet Beeswax Candle

Dimensions high 13 x 7 x 7 cm
Small Braid Beeswax Candle
Dimensions high 13 cm x 4,5 x 3,5 cm
About 85 gr. of french local beeswax
About 8 hours consumption time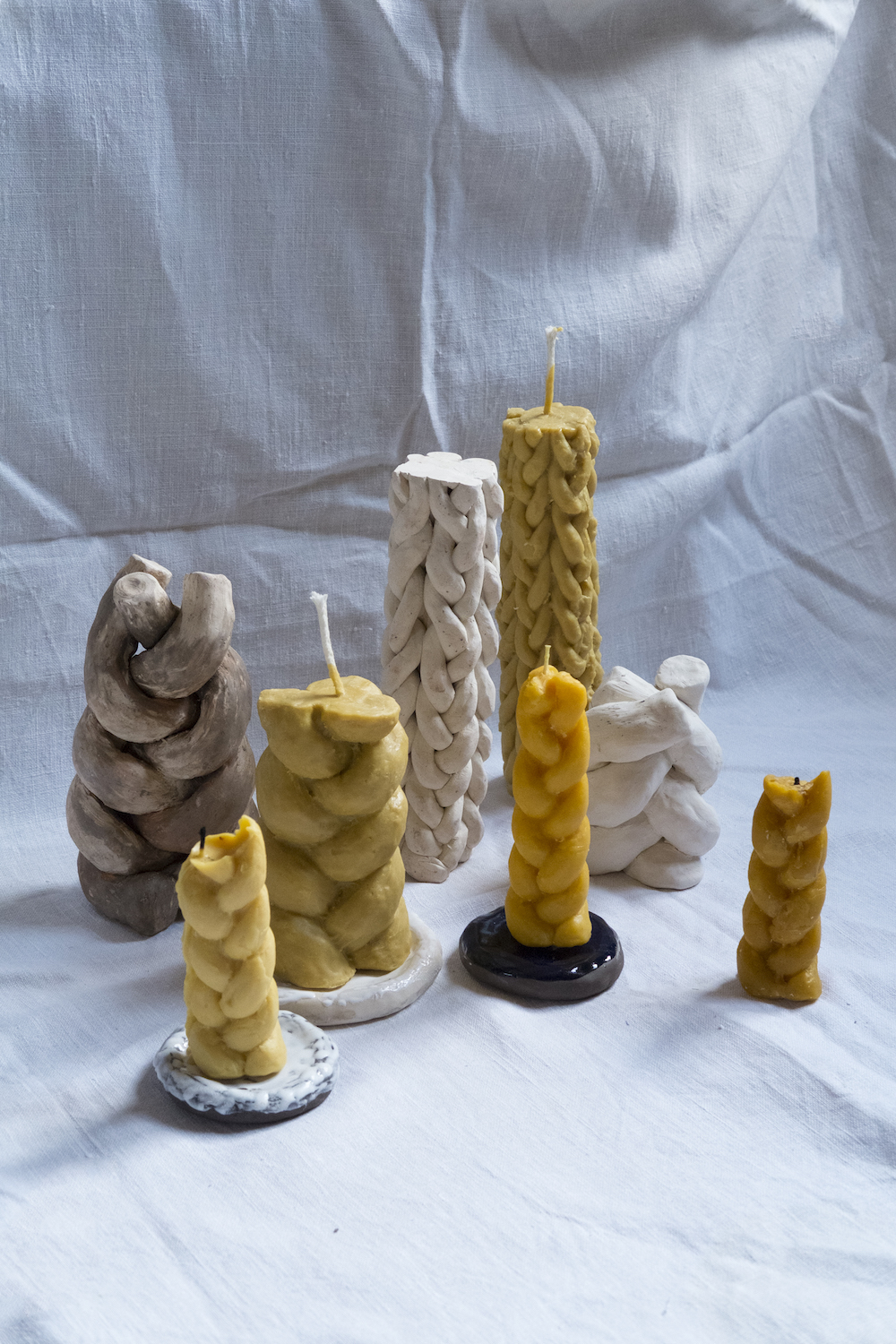 Handsculpted Beeswax Candle
All different, all unique pieces.
Laiki Risography Zine
A6 size, 48 pages + covers, 150 copies. Risograph printed
in Fluorescent Pink and Blue on recycled paper Crush Citrus,
120gr. Cover Burano Gold 200gr. Hand finished
with blue matte tape and a special designed stamp.
Printed by Sleep On It Press in Athens, Greece.
Seaweed Candle
The first model I created :)
Dimensions 12 high x 7 cm.